Landscape & Hardscape Services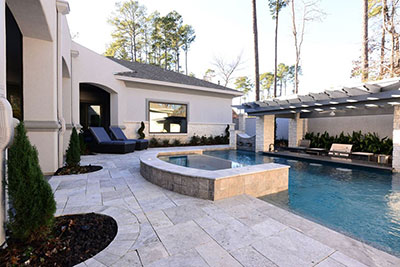 The beauty, sustainability, and resilience of any landscape depend on how well it has been planned and installed. You need the right materials, plans, and construction, which means you must hire skilled and licensed professionals for the job. We at Simple Outdoor Living offer start-to-end landscape and hardscape design solutions to clients throughout Orange County, CA.
Our expert team can handle all types of large-scale commercial hardscape planning as well as smaller residential hardscape design and build projects. A customized approach and in-depth knowledge about various materials and the latest installation process helps ensure our clients get superior solutions that give them a good return on investment.
Our experience spans more than 25 years, and that is what gives us a distinct edge over many other local hardscaping contractors. When we design and build any outdoor features for you, we make sure they are well-structured and balanced and enhance the appeal and sustainability of your landscape. We offer a wide range of services, including:
Landscape Design
We offer customized landscape design and planning solutions to residential and commercial clients. Our company handles start to end hardscape planning and installations as well as landscape upgrade projects. We know exactly how vital the layouts and plans are when it comes to creating functional, practical, and usable outdoor spaces. Our team of designers is highly skilled and will provide you with unique landscape design ideas. They use the latest 3D software in their work and show you how the outdoor spaces will look after installation. We also make sure that only high-grade materials are used in every structure and will provide you with detailed information so you can make better-informed decisions. Read More About Landscape Design >>
Pavers
Paving stones are some of the most widely used products in residential and commercial landscaping projects. You can choose from a variety of concrete, natural stone, or brick pavers. These units are available in a wide range of colors, designs, shapes, sizes, styles, and textures. Our team of hardscape designers uses their creativity and skill to provide you with a variety of paver designs and plans. You can rest assured that the outdoor areas of your property will look stunning; they will be easy to maintain and last for many years. We use high-grade paver stones that have proven their resilience in real-life conditions, so you have long-lasting outdoor spaces that increase the value of your property. Read More About Pavers >>
Artificial Grass
Most residential and commercial landscapes have some lawn areas on them. While the grass looks fresh and creates a lively look in the outdoor spaces, it can be tough to maintain long-term. You need to mow the lawn regularly, and it would need fertilization, pest control, de-weeding, and aeration. Also, you need to maintain a regular watering schedule to ensure that it looks good. Most property owners do not have the time to handle all these jobs, which is where artificial grass comes into the picture. We offer high-quality synthetic grass installation solutions to our clients. This grass looks very real, requires no maintenance, and can last for numerous years without fading or becoming deteriorated. All these qualities ensure you get an excellent return on investment. Read More About Artificial Grass >>
Outdoor Living
If you have outdoor spaces on your property, the best way to make use of them is to get customized structures installed. We offer superior outdoor living design and build services to our clients. Whether you need an outdoor kitchen, a fireplace or fire pit, or even a patio or deck, we can handle the job for you. Our team of expert designers will ensure that your outdoor structures enhance the usability of the available spaces, improve the value of your home, and give you areas that you will love to use along with your family. We make sure that these structures are designed to be stable, resilient, long-lasting, and appealing. Read More About Outdoor Living >>
Hardscape
There are various elements and features that go into creating a well-structured and well-balanced outdoor space and landscaping. Hardscapes are the foundation of any landscaped area. We offer high-quality hardscaping solutions to our clients and can plan and design everything from patios, decks, driveways, walkways, retaining walls, and more. We can also plan and develop garden steps, planters as well as edging, and curbing. We make sure that all these features are designed correctly, and that high-quality materials are used in the installation. Our team of paver installers, hardscaping specialists, and stonemasons create the best hardscaping features that will add to the beauty and functionality of your landscape. Read More About Hardscapes >>
Masonry
Masonry structures are crucial to the stability and integrity of any outdoor area. No matter which softscaping features you install, if the masonry structures are not up to the mark, that can cause problems in your landscape. We handle end-to-end masonry design and installation services for our clients. We use the best quality materials in our work, including concrete aggregates, sand, stones, concrete masonry units, and more. Our company handles every aspect of masonry installation. We can design unique structures that will also be resilient and lend stability to the outdoor areas of your residential or commercial property. Read More About Masonry >>
Concrete
Concrete becomes one of the most widely used materials when it comes to the installation of outdoor areas on commercial or residential premises. This resilient material is used in various features in different measures. Whether you need a retaining wall installed, a patio, or even your poolscape renovated, some amount of concrete would be required. Many property owners also opt for concrete flatwork solutions and prefer this material for their driveways, pathways, and other outdoor living areas such as outdoor kitchens and more. We offer decorative concrete installation services and use techniques such as stamping, etching, staining, and coloring and polishing, etc., which create a unique look in your outdoor spaces. Read More About Concrete >>
Landscape & Pool Remodels
As a full-service hardscaping company, we can tackle all types of projects of any scale and scope. Sometimes our clients need all-around landscape and pool remodeling solutions. Our team of experts works closely with you to make sure that this entire project is handled correctly. We take extra efforts to ensure that the materials and styling used in both these areas blend perfectly with each other, and there will be no disconnect in the aesthetic of the outdoor spaces on your property. We use high-grade materials that are resilient and can endure exposure to the elements while being easy to maintain. When you ask us to manage your landscape and pool remodeling project, you can be sure you will get high-quality solutions at very cost-effective pricing. Read More About Landscape & Pool Remodels >>
At Simple Outdoor Living, we provide each one of our clients with excellent value for money. As a full-service landscaping company, we can handle any aspect of your project we cannot handle.
Every aspect of our business is designed to delight our clients and ensure they are 100% satisfied with our services. We manage large-scale jobs and smaller landscape and hardscape projects for residential and commercial clients.
For more information and details about our customized hardscape and landscape design services, please contact us at - 714-388-5878 or request a free quote through this online form. One of our expert and knowledgeable team members will contact you to answer questions, discuss your requirements, and get your project started.